Customer Service - The SB Way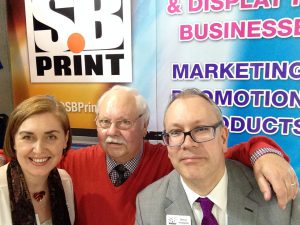 How important is good customer service to your decision-making process? Does it factor highly? Or is cost more important?
As a family business, our reputation has always been important to us – which is why we always go the extra step (sometimes an extra few miles) to make sure that the jobs we deliver are the best that they can be.
We're proud to be printers who proofread – so we'll never just set your print job on its way in automatic fashion. When you ask us to typeset your job we'll read what you've sent – we'll look for spelling and grammatical errors that you may have missed, and we'll tell you if there is something amiss so that suggestions can be made and it can be corrected before we start the process of printing. And where you send us your own print ready artwork we have been known on many occasions to spot errors that we have highlighted before production, thus saving you time, money and embarrassment on reprints. All this is standard SB practice and we don't charge for this part of our service; perhaps we should!
We don't claim to be the cheapest (although we often have great deals on) – but with us, you're paying for the whole experience. We can advise you if the print job that you've planned so much will work on the material that you'd like it on; we can suggest print finishes and presentation styles so that we make sure that your print job perfectly portrays your brand.
We love to deliver really great print jobs whether that is on paper, card, canvas, banners or something more three dimensional like mugs, umbrellas or stress balls. We take pride in using quality materials and modern equipment that make the end-product one that everyone can be proud of.
We love to have a relationship with our customers too. Many of them return frequently for additional print jobs, and it's great for us to get to know them and their individual businesses and needs so that we can serve them effectively and also to keep an eye open for opportunities for them and their business too.
All of this is part of the service at SB Print – it's not charged for, it's just our way. We want you to be the best you can be and we know how easy it is to get blind to typos on your own materials. We don't want you to have to pay out twice once you've noticed (or had pointed out to you) an error on your printed materials – so we get it right first time. We know how important that first impression opportunity is.
You can sometimes get cheaper services online – but for the seemingly bargain basement prices that you may find there, very often you won't be dealing with experts or humans let alone a local family business. Much of this is automated so they'll be feeding the print jobs in and shipping them out by robot. No checking, no suggestions, no decades of experience and no caring – if you make an error uploading then that's your fault in their view and they are not really interested as you are one of 1000s on their computer. If price is your main factor then this is fine; we know that everyone has a budget, and some are a lot tighter than others.
If great service, great quality and great products are what make you happy, then get in touch – we'd love to find out about you.